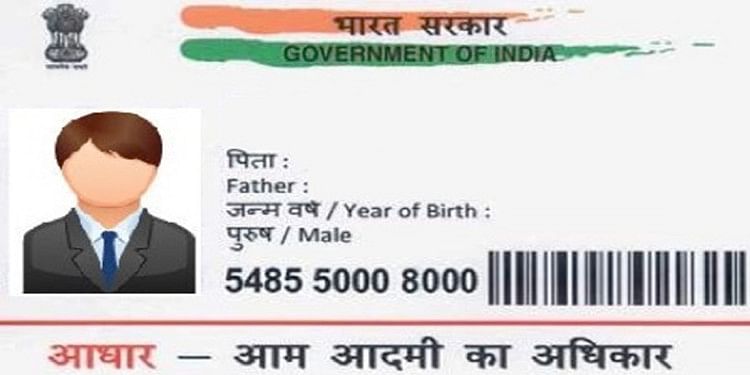 Image credits: Amarujala
---
Aadhaar is a 12 digit identification number which is issued by the Unique Identification Authority of India (UIDAI) to all the residents of India. In order to get an aadhaar number, a resident has to provide his biometric and demographic details at the various government-authorized Aadhaar Enrolment Centres. The former Prime Minister of India, Dr. Manmohan Singh has launched this programme in 2009.
The brand name 'Aadhaar' and the logo were launched in April 2010 by Nandan Nilekani appointed as chairman of UIDAI on June 23rd 2009. On September 29, 2010, Ranjana Sonawane from Nandurbar district of Maharashtra state became the first Indian to receive the Aadhaar card.
Who can apply for an Aadhaar Enrolment?
UIDAI issues Aadhaar in order to provide a unique number to the citizens of India, which can be used as an identity proof. But today Aadhaar is not only an identity proof but it is much more than it.
The eligibility criteria for Aadhaar enrolment are as follows:
The applicant is an Indian Citizen residing in India, or
The applicant is a non-resident Indian residing in India, or
Aadhaar applicant is a foreigner residing in India
Note: Even newborns can enrol for a special type of Aadhaar known as Baal Aadhaar
Aadhaar card for Indian Residents
Every Indian citizen can apply for an Aadhaar card by visiting the nearest government-authorized Aadhaar Enrolment Centre. Also, government of India has made it mandatory to link the Aadhaar with thier PAN cards so that it become easier for tax payers to fill their annual Income Tax Return.
Aadhaar is for all age groups
Unlike the Voter Identification Card, Aadhar card is available for all the citizens of India of all age group even under 18 years old. Their is a special Aadhaar for new born babies and children under 5 years old it is known as the Bal Aadhaar. To apply for an Aadhaar card for children, you have to provide the birth certificate of the child along with the proof of identity and address of parents. However, they have to update their biometric data as soon as they turn 5 and 15 years old.
Foreigners can have an Aadhaar
An Aadhaar card does not act as proof of Indian citizenship. It just contains various details such as biometric data necessary to identify a person. Thus, foreigners who are residing in India are eligible for Aadhaar even though they are citizens of another country. However, they have to reside in India for more than 182 days in the past 12 months to be eligible for Aadhaar.
Documents required for Aadhaar enrolment
At the time of Aadhaar enrolment, you have to submit two documents – Proof of address (POA) and Proof of Identity (POI). According to UIDAI, any of the following documents would be accepted as the proof of identity to apply for an Aadhaar Card.
Passport of the applicant
PAN Card
Ration card or PDS Photo Card
Voter Identification Card
Driving Licence
NREGS Jobs Card
Photo Bank ATM Card
Voter Identification Card
Certificate of birth of the applicant
To apply for a new Aadhaar card or updating details in your Aadhaar card, you can download the form by visiting Aadhar card official website, i.e. https://uidai.gov.in or can visit the nearest Aadhaar enrolment centre to submit Aadhar card enrolment form which is free of cost. You need to submit the form along with the supporting documents to initiate the process of Aadhaar enrolment.
Note: In case you want to update details in your Aadhaar card, you need to pay a charge of Rs. 25 at the Aadhaar Enrolment Centre.
How to Apply for Aadhaar Card
As now we know the importance of Aadhar we should move towards the steps of getting enrolled for an aadhaar. Now the question arises, How can we apply for an aadhar? or How can we get an aadhar?
Aadhaar enrollment is a step by step process which needs to be followed to apply for an Aadhar Card.
The applicant is required to provide the necessary information at the time of Aadhaar enrolment and when such data is verified, the Aadhaar card is generated. You can check the Aadhaar enrolment status online as well.
How to check UIDAI Aadhaar Status
Candidates who have applied for the Aadhaar card,they can check their Aadhaar card status online easily through the UIDAI's online portal as well as through phone via sms text message. Both processes are free and simple to use. Following are the steps to check Aadhaar card status Online:
To check your Aadhaar card status online go to the link given in the below table.
On page load you will see to input fields. Fill them accurately.
You will see here the blank space for the Enrolment id ,you must fill your Enrolment id in the following format-EID(0124/12322/33134).
You will have to fill date and time in the next blank space.The format to fill date and time in the blank space is dd/mm/yyyy/hh:mm:ss
The next step is to enter the security code which is displayed on the screen. Click on the 'Check status' button at the bottom of the screen. If you are not sure about your Enrolment number you can check your application form.At the top of Aadhaar card slip there is 14 digit enrolment number ,date ,time of enrolment .It is a temporary enrolment ID called EID.
How to Verify mobile number online for Aadhaar:
Candidates also can check their Aadhaar card status through mobile number. But for this process your mobile number should be verified first,Here are some steps ,follow these easy steps to verify your mobile number.
To check your Aadhaar card status online go to the link given in the below table.
After clicking on the link you will be automatically redirected to the Aadhaar Contact details verification page.
Here fill the required details i.e Aadhar Number and Mobile Number or Email. After that fill the captcha, and click send otp button
An OTP will be sent your registered mobile number fill it verify your mobile number and email id.
How to check Aadhaar Card status through mobile number:
To check the Aadhaar Status through the mobile number that you register for the UIDAI Aadhaar and follow these steps to check your Aadhaar Status.
Type the following SMS"UID STATUS <14 Digits enrolment Number>"and sent it to 51969.
If the Aadhaar has been generated ,the applicant will receive an SMS on the register mobile number containing the Aadhaar number.
If the applicant will not receive SMS,the sms sent to the applicants with the current status of the Aadhaar.
How to check Aadhaar card status without enrollment number.
If you have forgotten your enrollment number or have misplaced the acknowledgement slip, still you can check your Aadhaar card status. Follow these steps to find your lost enrollment number to check Aadhaar card Status
Go to the link given against Retrieve Lost or Forgotten EID/UID(Aadhar Number) in the below table to find your enrollment number.
Here Select EID/UID Aadhaar option to get your details.
Enter your name ,email,mobile number,and security code to send the OTP on your registered mobile number.
Enter the OTP in the space provided for the OTP,and then click on the Verify OTP Button.
Once the otp Verified,the enrollment number,Aadhaar number is sent to the email id or mobile number that you registered to the Aadhaar Card.
To check your Aadhaar status you can use this enrollment number.
How to check Aadhaar status through India Post
Once your Aadhaar process completed by UIDAI,it will be sent to the residential address of the applicant through post within 60 to 90 days.If you want your Aadhaar in few days ,you can track your Aadhaar card online through the official website of India Post.
Follow these steps to track your Aadhaar online through India post-
Go to the India Post Official website.
Enter the consignment details that you can get through Aadhaar website.
Here on the screen you can see the details of Aadhaar consignment.
To check the delivery status of Aadhaar, candidates can track his Aadhaar number at any India Post branch.